"The Last Dance" was bad history, but beautiful community
Reflections on the game-changing documentary event.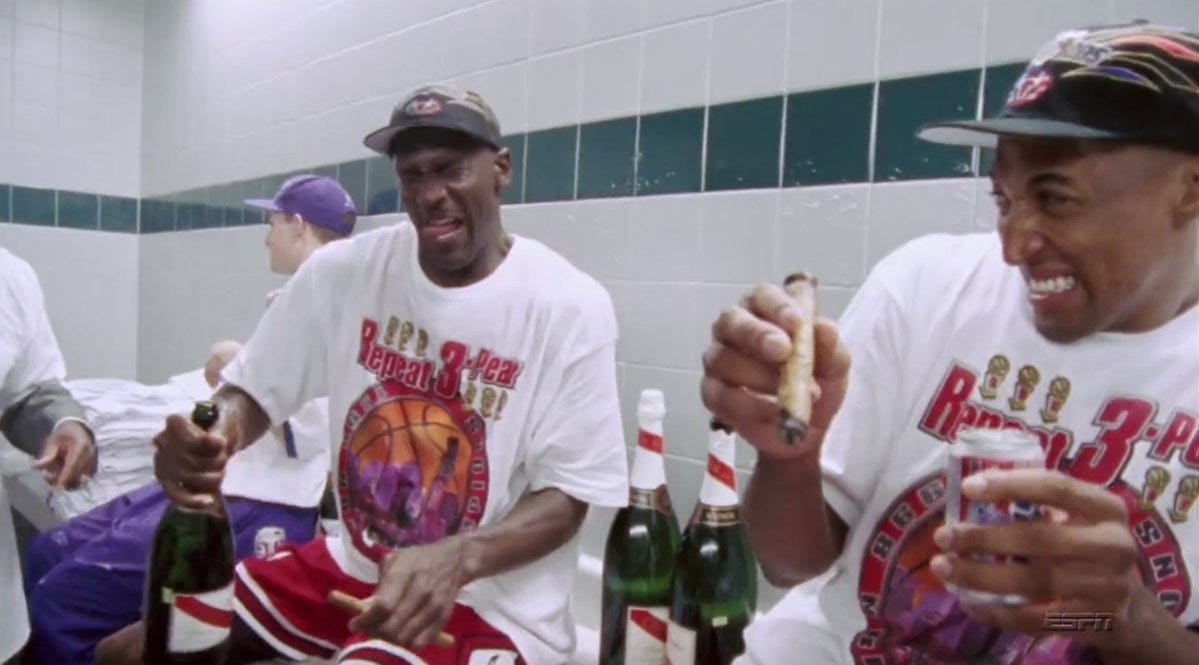 At 8:19 p.m., April 19, I received a text from my old friend Carrie. We grew up together, and our interactions today are mostly birthday-related, or the occasional Facebook comment. I don't remember the last time we texted each other outside of the context of a birthday, news about someone else we grew up with or perhaps something our children are doing.
But on this night, as I watched the first episode The Last Dance, Carrie sent me a photo with the caption, "In honor of The Last Dance." It was a photo of Carrie and two of our other friends downtown in 1996, our freshman year of high school, the three of them in Bulls gear and face paint, heading to Grant Park for the championship rally.
I hadn't put out the Bat signal for cool 90s Bulls photos, at least not in a way that she would have seen it. The documentary just brought it out of her. I'm guessing there were many communications such as ours, old friends re-connecting through the rush of memories fueled by this 10-part nostalgia tour.
Throughout the documentary's run, I had discussions with younger Bulls fans who remarked that they were finally understanding not just how great the Bulls were, but how BIG they were. And that's it right there. People have asked me what it felt like to be around for this run.
I'll tell you what it felt like.
It was fucking amazing.
As a sports fan, you always hope your team becomes a champion. And perhaps in part to hedge against the failures of one team, you have multiple teams, in multiple sports, in multiple seasons.
That is part of what made the '85 Bears so special: They were Chicago's first major champion since the '63 Bears. That's not just 22 years of trophy-less seasons for one team — it's 22 years for a whole city. Or look at the 2016 Cavs: Cleveland fans hadn't celebrated a championship since the 1964 Browns. That's a much different experience than, say, the Cubs going 108 years without a ring, but Chicago fans getting championships from every other team in the meantime.
As a fan, you can easily get conditioned to the idea that loyalty to your teams is an act of penance for sins unknown. It's easy to think that the purpose of fandom is to suffer, to build character, to bequeath hopelessness to your sons and daughters. That's rationalization hard at work, papering over the generational incompetence of owners who seem placed upon this Earth to prey upon our passion.
That's how it felt in Chicago in the early 80s, no doubt. I was born in 1981, and when Bears players hoisted Da Coach and Buddy Ryan into the air to celebrate Super Bowl XX, I had seen one Chicago championship, while my parents, a full 31 years older, had seen just three.
Michael Jordan changed all that. Suddenly, not only was our team in perennial contention, they were perennial champions.
It was incredible.
When your team wins a championship, no matter how great a regular season, you don't know for certain that you root for the champ until the season's final seconds. Then you celebrate in the offseason and you get the thrill of an entire season as defending champs, but if you lose — like the '86 Bears, '06 Sox and '17 Cubs — that season feels for naught.
A multi-time champ with no repeat is fun — we saw that with the Blackhawks. But go back-to-back, and the defending champion season is a true trip to the top.
Thus a three-peat feels as if you'll NEVER lose. Victory becomes a lifestyle, every game a rite. You dress for games. You plan meals for games. You see friends for games. You host family for games.
Starting with the 1991 Finals, the Bulls played 104 playoff games in seasons that ended in championships, along with 410 regular season games where we were either a defending champ or in the midst of the greatest season in NBA history. Much of the 1991 season felt like a championship-in-waiting, and the 27 games in 1995 after MJ's return were played at a pitch never known by probably 90% of sports fans.
In fact, for all of its flaws, The Last Dance accomplished one crucial thing: It came as close as possible to recreating the feeling of the buzz, thrill, and community around Your World Champion Chicago Bulls. You know how these five straight Sundays felt? That's how the Bulls felt for the better part of a decade. That's how being a Bulls fan felt for the better part of a decade.
It was our show.
And everyone was watching.
---
While the communal spirit of The Last Dance was beautiful, the film's presentation of history was disappointing. Certainly we knew that a Bulls film with Michael Jordan as a producer and ostensibly holding final cut would be slanted, but I was at least hoping for two things:
A true focus on the '98 season

A historical document worthy of the documentary's certain place as Bulls canon
Unfortunately, MJ was the focus and the film for a historian is like Willy Wonka's chocolate factory — a magical place where our dreams come true, but watch out for booby traps.
I loved what the filmmakers did with bringing subjects, mostly Jordan, an iPad to watch and react to interviews with other people. I would have loved to see them do that with each subject's past statements, to hold them accountable to what they've already said on the record.
For instance, instead of letting Michael Jordan and Rod Thorn say that Jordan never complained about Isiah Thomas being on the Dream Team, have the two of them read and react to Jordan's interview in 2011 with author Jack McCallum, in which he said exactly that:
"I told Rod [Thorn] I don't want to play if Isiah Thomas is on the team."
Instead of letting MJ and Horace simply smack talk Isiah about the walkoff, make the point that Isiah has made, that they are always cordial and friendly when they are together in person. Or instead of letting MJ say that Horace was Sam Smith's main source in The Jordan Rules, just give Sam the floor to explain his sourcing process.
Then we wouldn't have both Sam and Horace accusing MJ of lying. We also now have Jerry Reinsdorf upset about MJ's portrayal of the team's breakup, and Scottie Pippen upset about his portrayal overall. Much of this could have been avoided.
On the subject of Isiah, instead of letting him claim that the Pistons' walkoff was part of a broader Eastern Conference trend of dethroning champions, play him his own words in November 1991:
"At that time we were mad, we were upset. And for me to sit here now and say, 'We didn't really mean it,' that would be a lie. Because at that time, we meant it. Was it unsportsmanlike? Yes. Was it the wrong thing to do? Yes. But at that time, was that the way we felt? Yeah, it was a very emotional response…"
I also would have liked more clarity around the Krause-Jackson-Reinsdorf relationship, more effort to use past statements to illustrate the reasons for the team's breakup and certainly more of an effort to see the dynasty through Krause's eyes.
Specifically, we should have gotten a 10-minute segment on Krause's background, the same way we did with Jordan, Pippen, Jackson, Rodman and Kerr. Krause's negative traits would still shine through — they're impossible to hide.
But if the documentary made an effort to show Krause's perspective, not only would the documentary have been fair to Krause — which he deserved — but the documentary would have been better, because there would have been greater viewer tension if we at least had an inkling of empathy for Krause, and a sense of his motivations.
I don't know if the filmmakers reached out to Thelma Krause about an interview, or anyone from Krause's youth, but it's interesting to me that two of the most compelling pieces of history we did not get in the documentary are Krause-centric: the excerpts of his unpublished memoir, which Thelma Krause is sharing with K.C. Johnson at NBC Sports Chicago, and the stunning revelation from Tim Floyd that Krause first approached Floyd in 1989 about coaching the Bulls, before Krause fired Doug Collins and promoted Phil Jackson.
That last bit of information — about Krause and Floyd — actually changes our understanding of the dynasty. It is a substantial piece of information, and I assume Floyd would have shared it with the directors had he been interviewed.
In the coming weeks, I will be exploring several of these topics, starting with an in-depth look at Jerry Krause's history. Keep an eye out.
Additionally, if you want to see more about what an alternate approach to The Last Dance may have looked like, subscribe to Kelly Dwyer's newsletter "The Second Arrangement," where the longtime NBA writer has been posting letters called "Last Dance, Cut for Time," giving readers an episode-by-episode look at what material could have been in that given episode, based on the timeline explored. Here is his newsletter on episodes 1 and 2, and another on episodes 9 and 10.
That's all from me. Much more to come, including three upcoming interviews.
I hope everyone is enjoying their Memorial Day weekend! Memorial Day is a pretty fun day in Bulls history:
UPDATE. MAY 25. 10 P.M.
Jack McCallum drops the MJ tape: