Hodges: "We're going to see the planet change because of what the NBA players are doing."
I spoke with the 2x Bulls champ and legendary activist about last night's Bucks-led strike, the Jacob Blake shooting and what the players in the bubble should do next.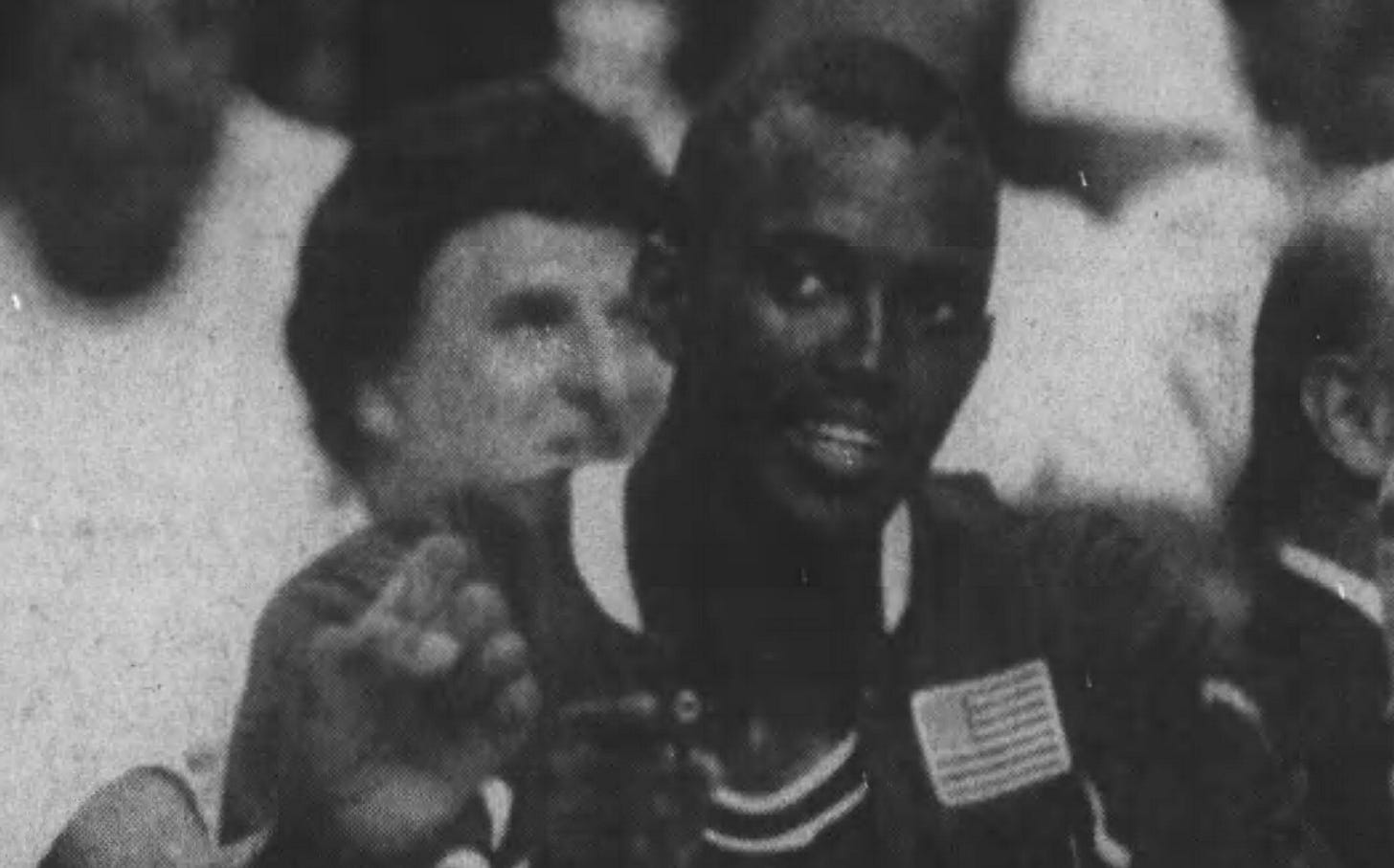 (AP photo, Game 4, 1991 Eastern Conference Finals)
Craig Hodges believes the Milwaukee Bucks changed history yesterday.
After a monumental day in sports in which activism took center stage, I reached out to Hodges to get his take on something he's been pushing for 30 years.
It all started yesterday afternoon when the Bucks — Hodges's former team and a favorite for the 2020 NBA championship — forfeited Game 5 of their playoff series against the Orlando Magic as an act of solidarity and protest against the police shooting of Kenosha, Wisconsin man Jacob Blake. The team's decision triggered a series of athletic shutdowns across sports, and now, as I type this just after midnight, we are still sorting through a monumental last eight hours.
Starting at 3 p.m. CT when the Bucks refused to take the floor, we've seen teams in the NBA, WNBA, MLB and MLS all cancel or postpone games. Naomi Osaka announced she was withdrawing from the Western & Southern Open, where she is in the semifinals, and the Detroit Lions canceled their practice.
What happens next is anybody's guess, but this is exactly the type of power that Hodges wanted his famous teammate and opponent to flex just prior to the 1991 NBA Finals. That's when Hodges, a reserve guard for the Bulls, pulled Michael Jordan and Magic Johnson aside at Chicago Stadium, when the players were already in their warmups, and told them to refuse to play in the Finals as an effort to push for an end to racism and an economic empowerment, through ownership, of the Black player base that makes up the majority of the NBA.
"Magic said it was 'too extreme' and Michael said, 'That's crazy,'" Hodges told me. "That's where they left it at."
Nearly thirty years later, the issues Hodges raised have become mainstream, pushed by the league's biggest stars. In fact, about 20 minutes after Hodges and I finished our interview, I saw the news that the Lakers and Clippers had voted to sit out the remainder of the season.
Whatever happens, the world has once again learned that sports are more than a game, and have the power to change the world, just as we saw in March when the NBA suspended its season indefinitely due to players testing positive for COVID-19, triggering a variety of shutdowns by various institutions across the country.
It's been a rough summer for sure, and I even had to step back from the newsletter for a time. This feels like a perfect time to get back, and at the end of this interview you'll see an excerpt from my next piece for our paid subscribers, a massive discussion with three-time champion Scott Williams. Subscribe now to read that when it drops this weekend.
Without further adieu, my discussion with Craig Hodges, whose fantastic autobiography, "Long Shot," is a must-read for all sports fans.
Note: This interview has been edited.
JACK SILVERSTEIN: It's interesting the role that the Bucks play in this story. Your activism was inspired in part by watching Kareem in Milwaukee, including his conversion and name change. You then spent four seasons in Milwaukee on the Bucks, and now we have the Bucks launching this protest that does what you wanted to do in '91. I know Milwaukee has its troubled racial history, and Kareem talked about being uncomfortable there.
What was your experience in Milwaukee with regards to police violence and racism?
CRAIG HODGES: There was a young brother who got murdered when I was there by the name of Troy Ashford. and that inspired me to do a program, Operation Unite. He was killed violently in the community. I don't think it was police brutality. It was just one of those crazy incidents. 
But it hit me. He was a young brother, and they were saying how they felt like they lived in a war zone. And that's been our existence. And now, with the (George) Floyd incident, Breonna Taylor prior to that, and now with Jacob (Blake) being shot, it's one of those things where the pot has boiled over and people are seeing mature people stand up for not just this one, but all of the murders that have gone on since we've been here. It's a time where America is really going to have to take a look at itself.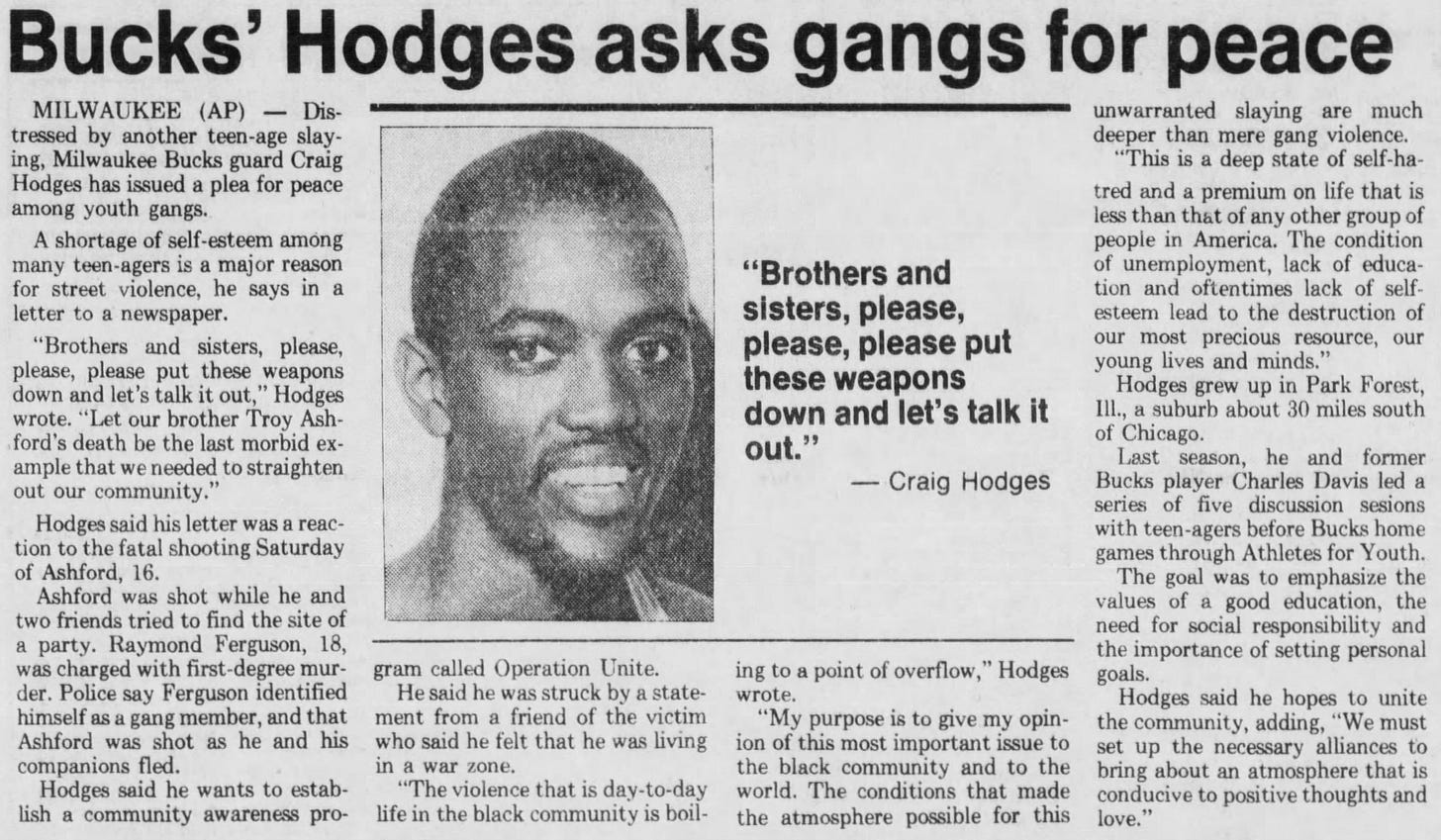 How does Milwaukee compare to Chicago with these issues?
HODGES: It's similar in so many ways. I enjoyed Milwaukee when I was there. It had a community vibration similar to Chicago. Blue collar city. A lot of industry. But at the same time, the community isn't as large. You had your segregated segments like you have in every major city, and there was a certain community environment that was there, but at the same time we had the same problems that Chicago has in terms of gun violence, drugs. 
I think now, with Milwaukee being at the forefront of it, I tell people — this is the 6th interview I've done since the beginning of the season, and I love the fact that there's an international flavor, with Giannis Antetokounmpo and his brother Thanasis, both being Greek-African, and they're standing up, making it an international story. It's hit the NBA and other major league sports. It's going to make a major impact on America and the world.
When Michael and Magic declined your push for a protest, did you consider sitting out regardless of what they did?
HODGES: That I didn't do, because I knew that they wouldn't take me seriously. At that time, I understood the impact of mass media had with regards to star power. Being a student of history, I knew about two superstars in Jerry West and Elgin Baylor who pushed a strike in the All-Star Game in the 1960s to create a player's union. 
When I asked Magic and Michael, Magic said it was "too extreme" and Michael said, "That's crazy." That's where they left it at. So me, me being me, I'm not going to drive you to something that should be right there in front of you. This is something that should have been done before it went down. They shouldn't have gone into the bubble. George Hill was one of the people who kept letting people know that being down in the bubble is a distraction, and I give him kudos for saying it.
SILVERSTEIN: I was going to ask you about that. George Hill spoke out about it, but maybe more significantly because of his star power, Kyrie Irving spoke out about it too. He thought that the bubble was a bad idea, because, "Are we just going to be a distraction that pulls people away from these issues?"
What did you think about that concept of the bubble being a distraction, and about what he said about players pushing for ownership?
HODGES: It's necessary. At this point in our history it's necessary. Seventy-five to eighty percent of the league are brothers that look like him, and the ownership should be part and parcel of that. Now it's time for true and righteous revenue sharing and ownership. It's a matter of, now we see each other as human beings and now we're going to have an ownership stake in line with the demographics of the league. We should be able to have impact in the community where players come from.
There's a flipside here, because if the players had said at the outset that they weren't playing, then they wouldn't be able to halt the playoffs because there would be no playoffs to halt, and we wouldn't have a night like tonight. So my question to you is this: What would you advise the players to do right now? Because they didn't play tonight, the league postponed games and presumably will reschedule, but now the teams that play tomorrow are going to have to face the same choice. 
What would you advise players to do? What is the best way for them to leverage their position right now?
HODGES: I think the biggest thing is to remain steadfast with your people. Police violence and brutality has gone on for centuries, and it has got to come to a stop now. The economic wheels have stopped turning in the NBA tonight. If that economic turnstile stops for a week, two weeks, and if it spreads throughout other major sports, then that goes into the business. Let's look at tomorrow's market and see what kind of impact it has. Because I'm sure it will have some impact. The market, the economics of this, is a lot larger. 
Even the fact that they had to go back and have so much energy to getting us back into the NBA, getting us back into college, getting us back into school even before knowing what the virus is about showed that it's more about money than it is about people. It's strange how God works in so many ways. This goes down tonight. We have two hurricanes. This is survival. There's a lot of stuff going on that has been prophesied about, from where I'm sitting, in terms of both the spiritual and the religious. 
We just have to know that right now, it's about the right action. All of these corporations and corporate entities that are using white privilege to earn … and where only 1% of the planet has — come on man, it's time for shared wealth. The people who have been on the bottom for so long and their story hasn't been able to be told, now through social media, everybody can see it instantaneously. And it's impacting the lives of human beings. 
That's the coolest part that I love about this. We're going to see the planet change because of what the NBA players are doing. The NBA players walked away, and they're going to change the planet because of that. It's the ignition to start the car. And it's going downhill. And when it's going downhill, that's momentum. The momentum now is unstoppable, because you're looking at the redemption of a people who have been enslaved and oppressed. You're seeing the old guard going out of play.
That's why our two presidential candidates are so old. They're part of the old paradigm. You can see it happening. It's funny to me because the Bucks are getting ready to win the championship, and now they're using that same energy for what we're seeing now with the redemption of people who have been downtrodden for hundreds of years, and they're getting ready to come out and break precedent. And it's not being given to them by any nation-state — it's coming from the most-high.
These conversations have to be open. So like tonight, the NBA had a meeting at 8 o'clock, and I think all of these meetings that the NBA has now should be open discussions for the public to see.
SILVERSTEIN: So bottom line, you think the best move is for the players to continue to boycott and continue to not play.
HODGES: Absolutely.
Should they leave the bubble or should they stay in the bubble?
HODGES: It's time to leave the bubble. Bust the bubble. (Laughs.) The bubble's already burst, man. It's hard to get this thing back on track now, but they could do it. The NBA is strategic. It's a multi-billion dollar machine. Their thing is to make sure that players of color who are the rank and file and the superstars (pause). One of my friends is a manufacturer of apparel, and he was saying, "Man, it doesn't look like any of the superstars have any noteworthy things on their back. It's marketing. I can't mess up my off-the-court stuff." 
But now tonight, we are in a place where America has never sat before, where we have not a rebellion, not a revolt, but something similar to a changing of the guard, a whole paradigm shift that's going to show that it's not just basketball. A lot of stuff is changing. I've been talking to people who can feel this energy coming, that you can't just murder and kill Black women and Black men and continue to have this sort of thing on the Black woman. At some point in time, her hurt and pain has to be answered for. 
Coming this weekend: An interview with Scott Williams.
Sneak preview:
1992 Game 6. 4th quarter. One of my favorite moments. NBA Finals. I will admit that when Phil sent that lineup in, I went, "Ah, so we'll have to win in 7."
Phil did too. Trust me.
What was your reaction to that lineup? You're down 15…
It was almost one of those things like, "Oh, you don't believe in us, huh? We'll show you." … There was no fear for us to go out there and play. I took the attitude of, "Oh, you're going to give up on us? Alright. We'll show you."
So you thought Phil was kind of giving up —
I didn't think it. I knew it. I could see in his eyes the way he was talking in the huddle. he had taken a different tone.
You thought Phil was just saying, "That's it."
Absolutely. To the day I die, I'll believe that.
***
Thanks to everyone for reading! I hope you're all doing well and staying safe. Lots more coming from "A Shot on Ehlo." And for more on Craig and the NBA boycott/strike, check out K.C. Johnson's interview with Craig conducted a bit earlier in the night.
Cheers,
Jack
***
7:20 am UPDATE:
I have since learned that the correct term for what the players are doing is not "boycott" but a "wildcat strike," which is a strike without union approval. I have removed references to "boycott" in this story, with the exception of the actual interview with Craig, to maintain the language we used.