YouTube Bulls: NBA Finals edition
Six Bulls Finals games to get you through our new, no-sports reality.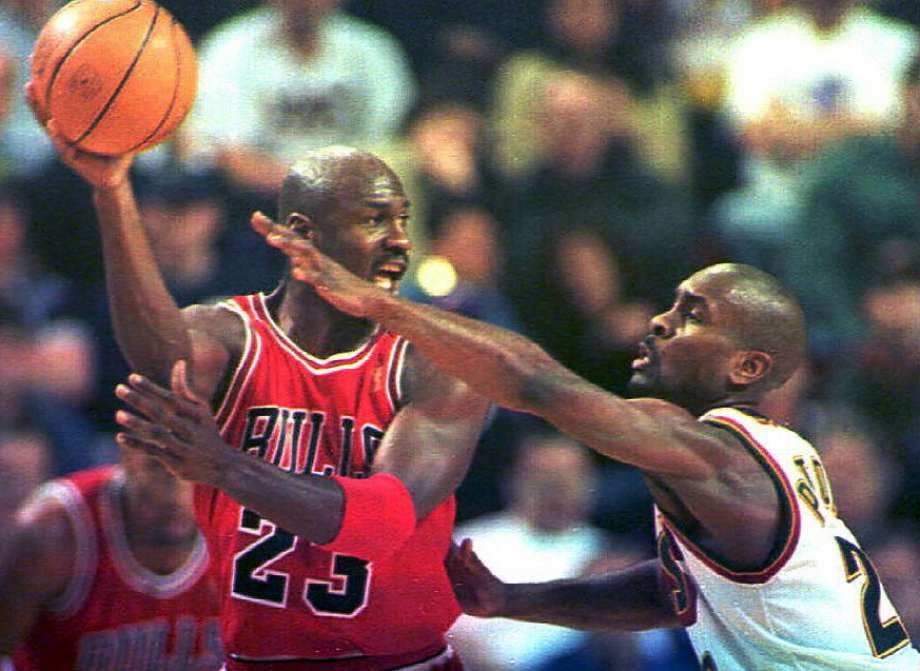 I watched rugby on Saturday.
Turned out, it wasn't even live rugby. It was the England-Wales game from March 7.
Yes, we're all adjusting to a world without sports. Fortunately, YouTube has us covered.
I'm an old pro at old games. I probably watch as many old games at this point as I do current ones, maybe more, in fact. And when it comes to the dynasty Bulls, YouTube is loaded.
So if you're looking for some games to watch this week, here are six of my favorite Bulls Finals games, both the full broadcast and the highlight reel.
My rules:
One game per Finals

No clinchers
1991, Game 1: Lakers 93, Bulls 91 (

box score

)
Why it's fun: Okay, we're starting with a loss. This is the only loss I'm picking. And obviously Game 3, which we won in overtime after MJ's big shot in regulation, is a great game to rewatch.
But I'm picking Game 1 BECAUSE it's a loss, and because it's a loss on a would-be MJ game-winning shot. This is the first NBA Finals game in Bulls history, it's in Chicago, it's Michael vs. Magic, MJ vs. MJ, and it ends with Jordan missing the game-winner.
The Bulls went on to win four straight games for the championship, three straight titles, and six in eight years. Everything started with the disappointment right here.
Full broadcast:
Highlights:
1992, Game 1: Bulls 122, Trail Blazers 89 (

box score

)
Why it's fun: The Shrug! A true statement game. The Bulls absolutely obliterate Portland in Game 1, and Jordan obliterates Clyde Drexler, hitting six three-pointers and scoring 35 points in the first half.
Other than the shrug, my favorite move in this game is Scottie's mid-air, one-arm pass to Jordan for the second three. This was unheard of from MJ, and really in the NBA at the time — listen to Marv describe his second three as "another three!"
MJ's six threes and 35 points in a half were Finals records. Not long after the Bulls won the championship, Jordan and Drexler were teammates on the Dream Team. MJ remained ruthless toward Drexler in practices, beating him so badly that Drexler one day showed up to practice wearing two left sneakers:
Full broadcast:
Highlights:
Threes only:
1993, Game 4: Bulls 111, Suns 105 (

box score

)
Why it's fun: After the Bulls stormed Phoenix and became the first team in NBA history to win Games 1 and 2 of the Finals on the road, they came home and lost Game 3 in triple overtime. Just as he'd done in Game 4 of the Eastern Conference Finals, Michael Jordan made Game 4 of the NBA Finals a "I got this" game, setting his career Finals high with 55 points.
This was the game where it became clear that no matter how brilliantly Charles Barkley played (and he was wonderful all series), Jordan was going to beat him. Here is his game-icing shot, which brought the Bulls one win away from the NBA's first three-peat since Bill Russell's Celtics.
Full broadcast:
Highlights:
1996, Game 3: Bulls 108, SuperSonics 86 (

box score

)
Why it's fun: After losing the first two games in Chicago, the SuperSonics returned to Seattle for the city's first Finals game since 1979. They certainly had to feel like they were about to turn the series — they were an outstanding team, with 64 wins second in the league behind only the 72-10 Bulls.
The pregame atmosphere at KeyArena was incredible…
…and then the game started.
The Bulls ROMPED, winning the first quarter 34-16 en route to a 22-point victory.
Full broadcast:
Highlights:
1997, Game 5: Bulls 90, Jazz 88 (

box score

)
Why it's fun: This might be the best Bulls Finals in terms of thrilling games from start to finish. Game 1 was MJ's fist pump winner against Bryon Russell, Game 4 had John Stockton's heroics, and Game 6 had Steve Kerr's series winner on MJ's assist (and… well… this), followed by Pippen's steal.
But there is no point in picking anything other than the Flu Game for this exercise. If you haven't watched it since 1997, make time for a legendary performance — and one of the greatest Jordan-Pippen moments ever.
Full broadcast:
Highlights:
1998, Game 3: Bulls 96, Jazz 54 (

box score

)
Why it's fun: This was the biggest victory in NBA history in the shot clock era, and it came in the Finals. Forty-point victory. A complete deconstruction. This was the game that gave us the image that felt like it summed up the entire Bulls dynasty: the starters on the bench, knees iced, laughing and cheering.
Best moment was when the Bulls emptied the best, and every player scored, ending with this Bill Wennington jumper.
"The evening is complete," Bob Costas said. "A total humiliation for the Utah Jazz."
Full game:
Highlights:
More curated dynasty Bulls to come…
Have a great week everybody! Stay safe.
Cheers,
Jack