Discover more from A Shot On Ehlo
Chicago sports history, from ReadJack
Kobe and The Dynasty: what might have been.
How the Lakers great intersected with the Bulls, again and again.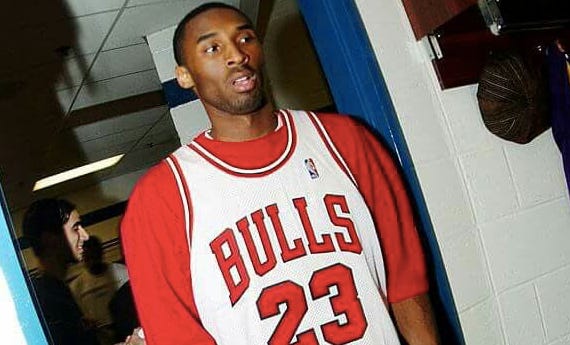 It's impossible for me to look at the dynasty and not feel regret. It should have been a starting point. It ended up a self-contained story.
And no non-dynasty person personifies that regret better for me than Kobe Bryant. For 20 years, I could feel the alternate timeline where this dude was a Bull.
I thought about that this week when Michael Jordan eulogized the fallen Lakers great.
The Bulls and Lakers share a history. Their franchise's first superstar, George Mikan, was born in Joliet and attended DePaul. In our first seven seasons of existence, we played and lost to the Lakers in the playoffs four times. We lost the coin flip for Magic Johnson (all the better for Magic). We beat the Lakers in our first Finals.
The disintegration of our dynasty was practically reborn as theirs.
With our greatest of stars remixed as theirs.
MJ.
And Kobe.
There are two reasons those videos of "identical moves" between the two Hall of Famers is so spot on. One is obvious: Kobe patterned his game directly on MJ. That makes sense. If you're a 6'6 shooting guard entering the league in 1996, and you want to maximize your talent by studying a similar type, of course MJ would be that type.
But the other reason is perhaps more significant: starting in 1999-00 and running for most of his career, Kobe played in the triangle offense. He played in the same offense as MJ, and learned from the same people who taught MJ.
Kobe wasn't just learning Mike's turnaround or his up-and-under because they were effective — he was executing them in the same offense, typically on the same spot on the floor, with teammates practicing the same spacing and making the same cuts.
I always compare Kobe in this respect to one of my favorite writers: Hunter Thompson. Long before he was the mad Gonzo scribe, Thompson used to sit at his typewriter and type out, word for word, his favorite books of Hemingway and Fitzgerald.
He wanted the experience of writing those great works.
Jordan used to joke about Kobe biting him. In promotional material for NBA 2K14, Jordan pondered his favorite potential one-on-one matchups if he could bend time and space:
"If I was in my prime, who would I want to play one on one? That list is very long. Start off with Jerry West, Elgin Baylor. Kobe Bryant in his prime, LeBron in his prime, D-Wade in his prime, Melo. That's a good start. And I don't think I'd lose. Other than to Kobe Bryant, because he steals all my moves."
This week, though, when MJ stepped to the podium to memorialize Kobe, he shared with the basketball world the flip side of that joke:
"He used to call me, text me, 11:30, 2:30, 3 o'clock in the morning, talking about post-up moves, footwork, and sometimes, the triangle. At first, it was an aggravation. But then it turned into a certain passion. This kid had passion like you would never know."
Kobe and the Bulls: the great "what if?"
As I said, when I think about the Bulls dynasty, it's impossible for me to not also wonder how we might have been able to do what the Lakers have always done: to use the capital of one dynastic era as a downpayment on the next. Each great Lakers era creates a bridge to its successor, while the Bulls dominance of the 90s was a cul-de-sac, the end built into the beginning.
If it wasn't, we may have found a way to lure Phil Jackson into staying after his one-year sabbatical in 1999. He stays in the organization, and perhaps Michael stays too. Phil never goes to L.A. Kobe never plays for Phil.
And maybe, just maybe, when at the height of the Shaq-Kobe era Kobe got his wandering eye, maybe he would have found a way to come to Chicago, just as he looked at MJ's Wizards.
After all, if there is one team where Kobe almost landed other than L.A. (or the Hornets), it was Chicago. It started before he was even here. In February 1995, when Scottie Pippen was going so far as to beg for trades on national television, the Bulls got a deal in place with the Clippers that would have brought in a boatload of picks, including L.A.'s #1 in 1996. That pick could have been Kobe.
Like many young stars (even ones who were coming to college immediately in MJ's UNC wake), Kobe spent the start of his career being billed as "The Next Michael Jordan." But with an incredible performance AGAINST Michael Jordan and an All-Star co-billing in 1998, Kobe seemed like the first one who would make it at least somewhat true.
That led the great Sam Smith, in all of his trade-proposing glory, to pitch this trade in his column two days after the Bulls won their 6th championship:
Bulls sign Pippen (a free agent) for $15 million over five years

Lakers get Pippen

Bulls get Kobe, and to make the salaries work, Elden Campbell, Robert Horry and Nick Van Exel
That might sound like highway robbery, knowing what we now know. Smith even acknowledged that "the feeling long has been that the Lakers never would part with the talented Bryant." But he thought that perhaps with Shaq's annoyance with Kobe's offensive game, he might want to play with Pippen instead.
Of course, none of this happened, and instead, the Bulls dynasty almost transmuted from the red-and-black to the purple-and-gold. As an appetizer of sorts, Dennis Rodman popped up in L.A. in 1999 for a short but memorable stretch, but the real transformation came in the 1999-2000 season.
L.A. coaxed the retired Phil Jackson out of retirement in June of 1999, and Phil quickly put the band back together, rescuing Tex Winter and Frank Hamblen from the "Replace-a-Bulls" (as Sports Illustrated dubbed them) and reuniting with Jim Cleamons. In September, the Bulls released Ron Harper, who signed with the Lakers the next month.
Kobe now had everything in place to build himself into the perfect Jordan facsimile. He had the coaching staff, the offensive system, a dominant teammate (to say the least) — and hell, he even had the same off guard.
Fast forward to 2004, with the Lakers two years removed from their last ring and coming off a Finals loss to the Pistons. Kobe was a free agent, and was frustrated with a lot of elements on the Lakers, including the knowledge that if he never split with Shaq, he would always hear from critics that he couldn't win without Shaq.
"We were looking for places in Chicago," Kobe told Shaq in their TV special in 2018. "We were flying up there to meet with Reinsdorf, to meet with Paxson. … Vanessa signed off on moving out to, I think it was Lake Forest."
That went out the window when Shaq requested a trade, and the Lakers moved him to Miami.
Three years later, a disgruntled Bryant was looking for a trade, and the Bulls were on his short list of acceptable destinations. (I can't find him the exact quote, but it's in this 2015 interview with Bill Simmons and Jalen Rose. Here it is in print.) That trade fell through when the Bulls offered too much for Kobe, leading Kobe to neg the deal.
Of course, not long after that, the Lakers traded for Pau Gasol, setting up two more championships and letting Kobe steer himself into the sunset with an unprecedented 20-years-with-one-team career.
And I will say I appreciated his career intersecting with the dynasty one last time, on his final night in fact, when the NBA world chose to watch him in his final game instead of watching the Warriors break the '96 Bulls record with their 73rd win.
Kobe's tragic, shocking death last month has refocused the league and all who care about it around his greatness, and caused a re-evaluation of his talent and career. (For my part, here is my list from 2017 of his eight most under-discussed basketball accomplishments.) His death stirred in me a great many reactions and emotions, which I will not recount here.
Among them, though, were reflections on how tenuous the term "loyalty" can be in sports, and how difficult two sides have it when they want to remain loyal. Kobe and the Lakers could have separated several times along their 20-year run. For the sake of both sides, and especially Lakers fans, I'm glad they didn't.
But I can't help but wonder what #8 would have looked like in the red-and-black, and whether our organization will ever have someone on that level again.
COMING MONDAY: Never-before-published outtakes from my interview in 2013 with the late photographer Marc Hauser, who shot Michael Jordan countless times over the years, including his famous Jordan-Sweetness-Dawson tuxedo pose (which was the cause of my interview before Hauser spun off on other topics) and the famous, abandoned Dennis Rodman billboard for Bigsby & Kruthers that had to be taken down before completion because it was literally stopping traffic.
Marc told me what Michael likes to eat during photo shoots, what Dennis likes to eat, how MJ turned himself into a great photo model and how the Bigsby shoot came about.
Here's a teaser for Monday's post:
Dennis Rodman's kind of a quiet guy. (imitates Rodman's grumbling voice) That's how he talks. He brought two buckets of Popeyes Chicken, ten pieces of each one. He sat on the couch waiting for the Silverbergs to get there, and the people from Giorgio Armani. Joe and Gene Silverberg. Gene was the idea guy. Joe was the schmaltz.

So I said, "What are we going to do Gene?" He said, "We gotta figure out a way to shoot him in the suit, but I want to show his tattoos." So I said, "Why don't we just roll up the sleeves?" So we tried that, but it didn't look very good. … I said to Gene, "Why don't we just cut them off?" and he said, "That will look too planned. Why don't we rip them off." So Gene ripped the sleeves off this $2700 suit coat. We put it on Dennis and it looked like it was made to wear like that.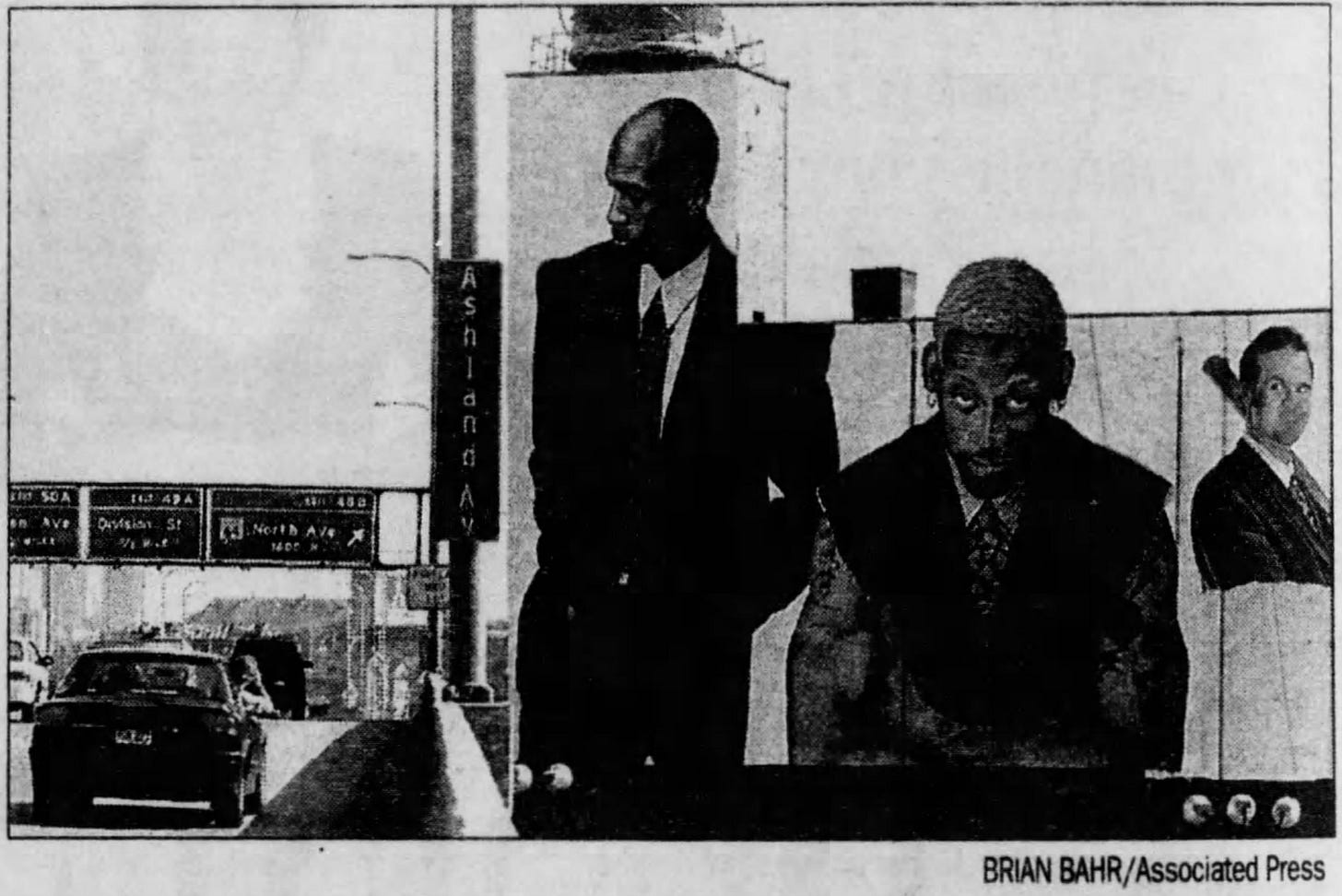 This week's paid post was a doozy. Subscribe now and don't miss out!