Happy birthday Michael Jordan!
A look at MJ's 10 most underappreciated feats.
"One day, you might look up and see me playing the game at 50."
So said Michael Jordan at age 46, during his Hall of Fame speech in 2009. He called his induction "a continuation of something that I started a long time ago," and though his comment about playing at 50 drew a laugh, I took him at his word when he ended with this:
"Don't laugh. Never say never. Because limits, like fears, are often just an illusion."
That's an inspiring notion, the idea that anything a person can imagine, they can accomplish. I think it's why MJ's list of achievements on the court is so stunning: We know about the six rings and the 63 at the Garden, about the 10 scoring titles and the five MVPs.
But his career was so much more than what everyone discusses. I've shared this list before, in two forms, but I want to drop it here again, for two reasons:
It's super fun.

I updated it in the past year (see #3), and the update speaks to how I will approach the writing of this book.
So happy 57th birthday to Michael Jeffrey Jordan. I'll be honest with you: I'm a bit scared about taking on this book. The timeline is long and the scope is enormous. So I'm channelling MJ, and reminding myself that my fear is an illusion. Onward!
Michael Jordan's 10 Most Underappreciated Achievements
ACHIEVEMENT #10: The NBA's first All-Star triple-double
YEAR: 1997
WHY IT WAS COOL: Jordan shot terribly in the '97 All-Star Game, hitting 5 of 14 shots for his second lowest All-Star shooting percentage as a Bull, beating only his rookie year during the so-called "freeze out." But going along with his 14 points were 11 boards and 11 assists, giving Jordan the first triple-double in All-Star Game history. It was the only year in his Bulls return that he did not win the ASG MVP, losing out to Hornets forward Glen Rice, who set All-Star records for points in a quarter (20 in the third) and in a half (24 in the second).
ACHIEVEMENT #9: 18 rebounds vs. Cleveland, to go with his 69 points
YEAR: 1990
WHY IT WAS COOL: You probably know Jordan's career high in points was 69 in a 1990 game against the Cavaliers. But did you know he also grabbed 18 rebounds in that game? Holy moly! There are only 16 instances of a player scoring 65 points in a game and grabbing 15 rebounds — Wilt had 14 of them, Elgin Baylor had one and MJ had the other.
ACHIEVEMENT #8: Seven consecutive triple-doubles.
YEAR: 1989
WHY IT WAS COOL: Coming off his MVP season, Jordan became the first player since the merger to average 30-plus points with 8-plus rebounds and 8-plus assists. He achieved this in part by bagging 14 triple doubles, including an astonishing seven straight in late March and early April. This seems more normal now, following Russell Westbrook's otherworldly three-straight triple-double SEASONS, but having seven straight triple doubles was unheard of in '89.
MJ got it done during a mini-competition with Magic Johnson to see who could get more triple-dubs that season. Magic won 16-14, while averaging exactly 10 fewer points per game than Jordan.
ACHIEVEMENT #7: Three steals titles
YEARS: 1988, 1990, 1993
WHY IT WAS COOL: Jordan's 10 scoring titles reside near the top of his resume, and with good reason. But discussed much less are his three steals titles. I'm always impressed whenever a player can lead the league in multiple significant categories: Hakeem Olajuwon or Ben Wallace in rebounds and blocks, John Stockton or Chris Paul in steals and assists, or David Robinson in points, blocks, and boards, albeit in different seasons.
He didn't win the steals title in 1998, but he did grab his most famous steal.
ACHIEVEMENT #6: Hitting .252 in the Arizona Fall League
YEAR: 1994
WHY IT WAS COOL: Jordan hadn't played competitive baseball since he was 18, yet at the age of 31, he hit .202 in double-A ball, with an average that rose in the latter portion of the season. He then went to the Arizona Fall League and hit .252. Read this thread for a complete history on his incredible baseball career:
ACHIEVEMENT #5: Oldest player to score 50 points; oldest player to score 40 points
YEARS: 2001, 2003
WHY IT WAS COOL: Jordan's stint on the Wizards is often derided for being aesthetically unpleasant and Jordanically unimpressive. But hold on! At age 38, Jordan became the oldest player in NBA history to score 50 points when he dropped 51 on the Hornets. A year later, he became the first and still only 40-year-old to score 40 points, which he did against the Nets, scoring 43 points and grabbing 10 rebounds.
ACHIEVEMENT #4: Oldest player ever to average 20
YEAR: 2003
WHY IT WAS COOL: After a somewhat underwhelming first year with the Wizards, in which he played his fewest games (60) since his broken foot in '86 (not counting coming back from baseball, of course), MJ cranked out one final great year, playing all 82 games the year he turned 40, and averaging 20 points a night.
ACHIEVEMENT #3: High scorer in 36 of his 37 playoff series
YEARS: Entire career
WHY IT WAS COOL: In April of 1985, the Bucks defeated the Bulls 3-1 in the first round of the playoffs, with Milwaukee's Terry Cummings outscoring MJ by a single point, 118-117. From that point on, Jordan led both teams in scoring in every playoff series for the remainder of his career. No one dominated like this. A quick look at some relevant comparisons, and the percentage of series each guy below led even just his team in PPG, let alone his opponent too:
MJ: 37/37 series

LeBron: 42/45 (93%)

Durant: 22/26 (85%)

Kobe: 27/43 (63%)

Kareem: 28/48 (58%)

Shaq: 24/44 (55%)

Wilt: 11/29 (38%)
So, what does this have to do with the book?
Well, my brain just goes and goes, and late last year I started to wonder how many times MJ led the Bulls in scoring in the playoffs. So I did what I always do: I made a spreadsheet, hopped on Basketball Reference and started logging his series. That's when I realized he had this amazing stat, something that contextualizes his greatness even further.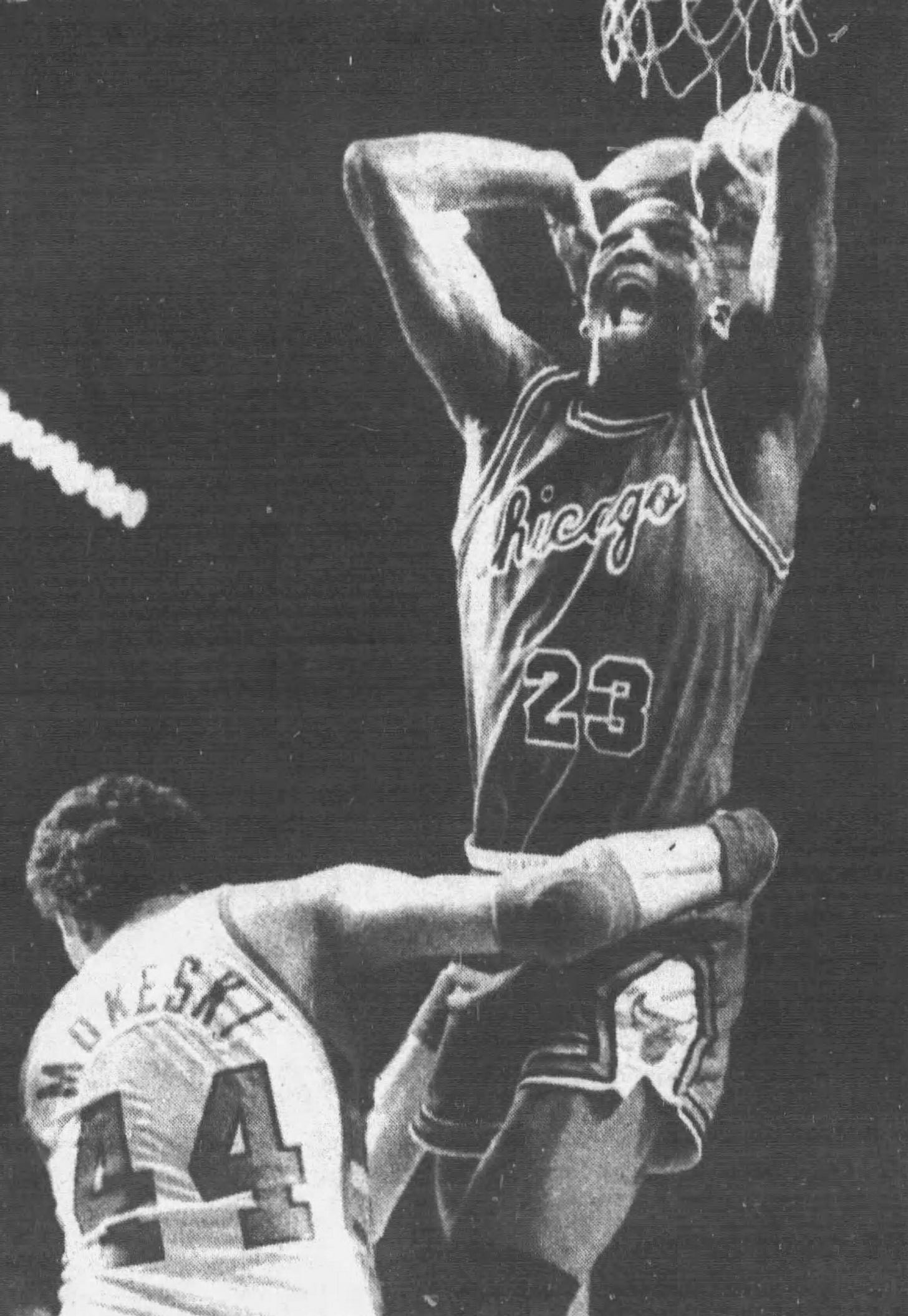 ACHIEVEMENT #2: 357 of 358 possible NBA games, from his return from baseball to the "Last Shot"
YEARS: 1995-1998
WHY IT WAS COOL: MJ seemed indestructible, and seemed like someone who never took a rest. His amazing run from '95 to '98 showed that off like no other stretch of his career. He played in every possible game (preseason, regular season, All-Star Game, playoffs) except one, missing the sixth preseason game of 1997-98 with surgery on two ingrown toenails. Read more here.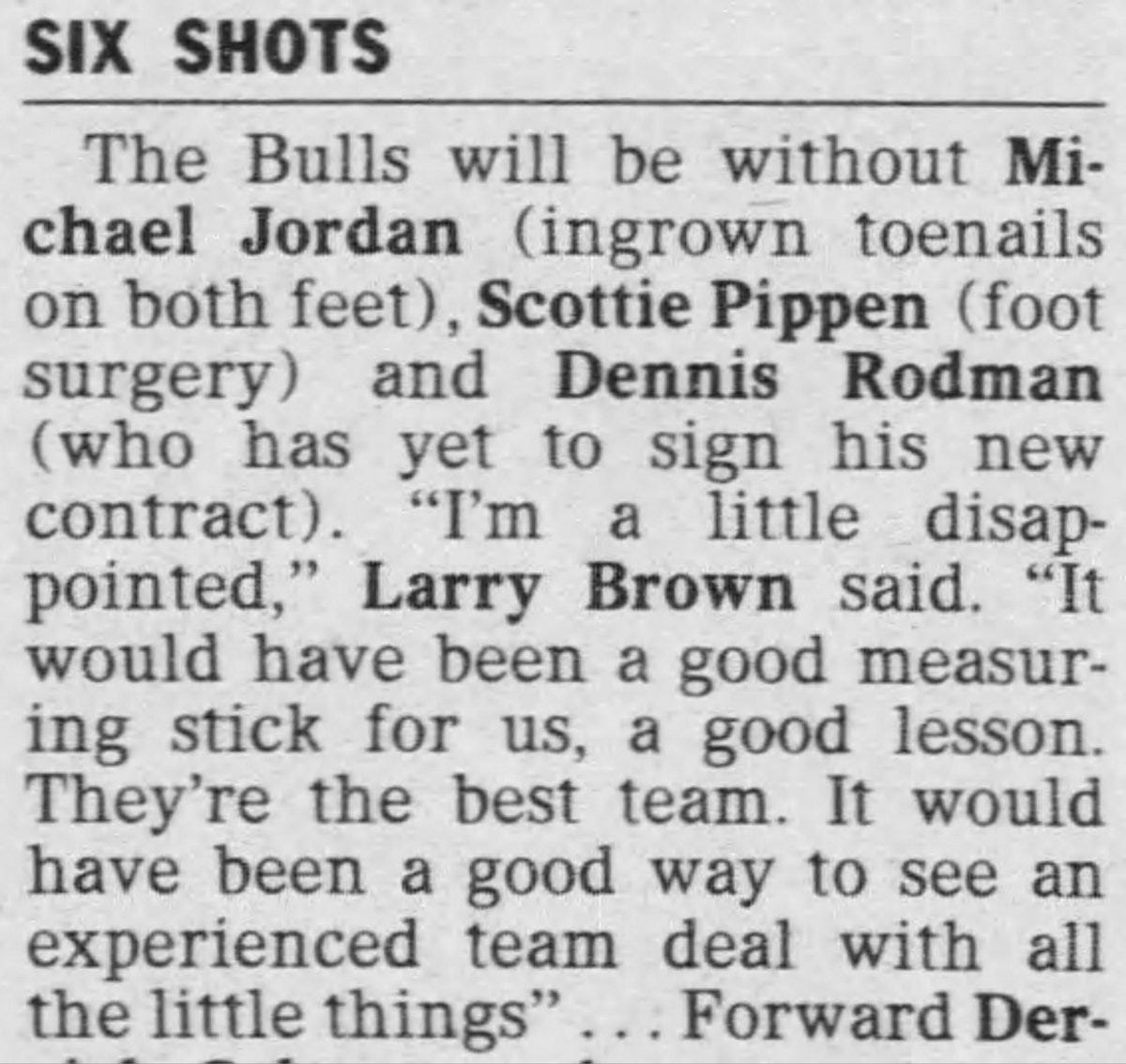 ACHIEVEMENT #1: MVP, All-Star MVP, scoring champ, dunk champ, steals champ, Defensive Player of the Year — all in the same year
YEAR: 1988
WHY IT WAS COOL: There is nothing like MJ's 1988. The combination of being the league's best player, best scorer, best dunker and best defender is unprecedented. Jordan is the only player to win the scoring title and DPOY in the same year. Only Jordan in '88 and Hakeem in '94 have won the MVP and DPOY in the same year.
1988 was also the first of MJ's five seasons winning the MVP and scoring title in the same year. Wilt and Kareem each did it twice, while eight other people did it once.
He had more famous seasons, but the all-around dominance of '88 stands out even in a run of gems.