6 things I want to see in "The Last Dance"
MJ's poem. The Paris trip. David Vaughn. And three more things I want to see in "The Last Dance."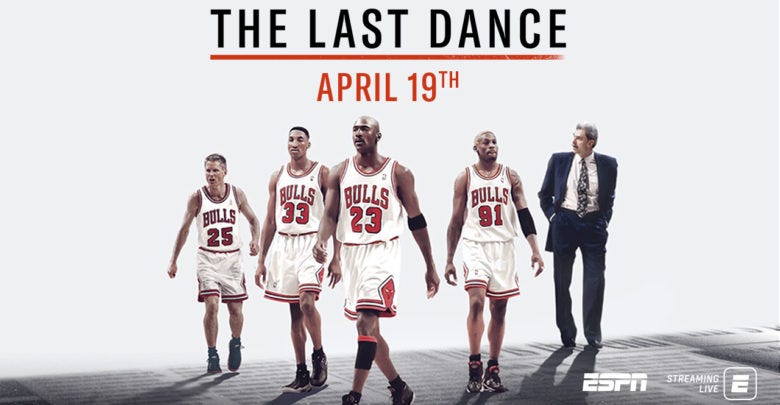 "I don't care if it's eighty-two and oh this year, you're fucking gone."
— Jerry Krause to Phil Jackson, before the 1997-98 season
---
Before we get started, I want to thank everyone who has been spreading the word on the newsletter, including Mark Carman, David Kaplan and one of the biggest MJ fans I know, Sarah Spain.
Thank you to everyone sharing posts online, sending to friends, and of course everyone who is receiving this email! You're the reason I love writing in this format. Thank you so much. Plenty more to come.
Also, a big thank you to six-year-old Grayson, who is becoming a 90s Bulls fan here in the year 2020, in part from reading this newsletter. This was really cool to hear. Thanks @mjnscottie!
Okay, down to business.
6 Things I Want To See in "The Last Dance"
With sports cancelled due to COVID-19 and most of America at home in quarantine, ESPN played the best card it had: "The Last Dance" — a 10-part documentary on the 1997-98 Bulls — will be released April 19, instead of the previous planning of dropping it in June during the Finals. Here is the full broadcast schedule.
When the first trailer dropped in December, I was like every other basketball fan in the world: SUPER FREAKING PUMPED.
But in another way, I was not like every other basketball fan in the world. And that's because I am particularly well versed in the 1998 Bulls, moreso than most people, I would imagine. And my second reaction, after the excitement, was:
"How the hell will this be 10 hours?"
I opened this newsletter with that famed Krause quote (via David Halberstam's Playing For Keeps) because it sums up the tension at the heart of the '98 Bulls, and because it's the exact kind of realism that I want in a '98 Bulls doc, and that I don't know that we'll get. I'm not alone. I saw a story Thursday by longtime Bulls writer Jim O'Donnell in the Daily Herald, titled, "Will ESPN's Michael Jordan documentary go all the way behind the scenes?"
Jim's piece sums up what I've been wondering about since I first heard about the doc back in 2018: Just how honest can we expect the doc to be? We'll find out soon enough.
That said, I don't need or even want the doc to be honest in an aggressive way. I just want it to be comprehensive. The celebrity-driven trailer is almost titillating, yet also disappointing, because why are we looking at Justin Timberlake and Nas over, say, Ron Harper and Luc Longley?
I know why, of course, but as a Bulls fan, I want to see all of the players. I want to see the coaches. I want to see guys who were lesser known but there every day, like small-time players, or various workers at the United Center. (Good news! That's why I'm writing my book.)
What am I hoping for in "The Last Dance"? Here are six items that come to mind.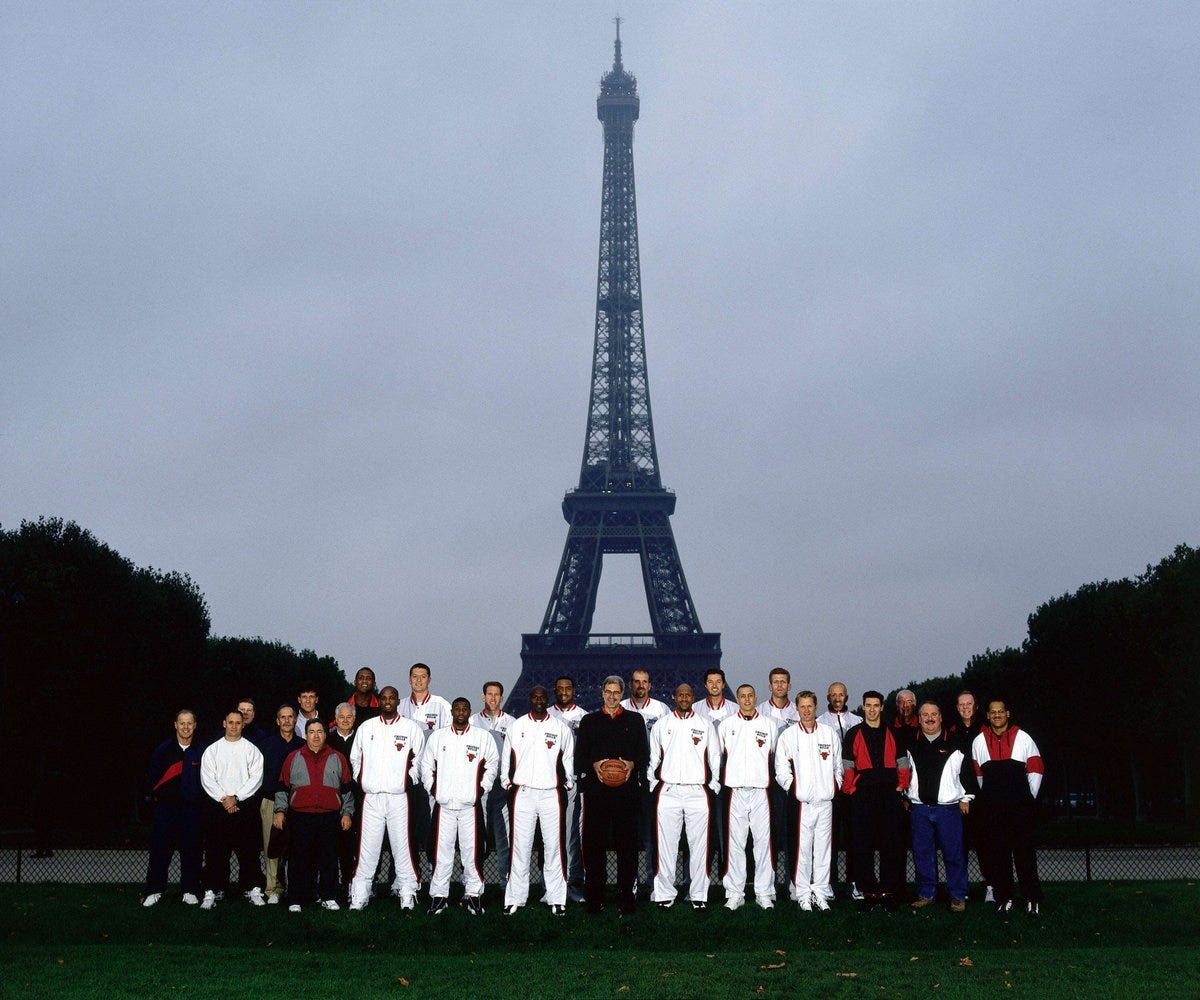 The McDonald's Open in Paris, October 1997
The Bulls played a standard eight-game preseason schedule in 1997-98, but two of those games were in Paris for the McDonald's Open, a tournament held nine times between 1987 and 1999. This was an interesting tournament for us for several reasons, but a big one is that neither Scottie Pippen (foot surgery) nor Dennis Rodman (still unsigned) played, meaning all of the burdens — corporate duties, fan service, and play on the court — were even more on MJ than normal.
Along with cool behind-the-scenes looks at Jordan and the Bulls in Paris, the European fans embracing the kings of basketball and even perspective from the two opponents (including future Bull Dragan Tarlac on Olympiakos), I want to see behind-the-scene conversations that include Jordan and Jackson talking about the challenge of being without Pippen.
The games in Paris were MJ's 250th and 251st consecutive NBA games since returning from baseball. He missed the next preseason game back in the states due to surgery to remove ingrown toenails, and never missed another game as a Bull, playing the final two preseason games, all 82 regular season games, the All-Star Game and all 21 playoff games.
Here is a thread of mine with some photos from the Paris trip, and if you want to watch the games themselves, they are available:
The Tale of the Rookies
What was it like to start your career at the end of a dynasty? Only Keith Booth and Rusty LaRue know for sure. Booth was the team's first round pick in 1997, while LaRue was undrafted in 1996 and played both in Paris and in the CBA before landing on the Bulls. Unlike center Joe Kleine, who was in the mix for the final playoff spot, there was never a doubt that Booth (6 games, 17 minutes total) and LaRue (14 games, 140 minutes total) would be left off the playoff roster.
Yet they were with the team from preseason all the way to the championship, and were the first two players Ray Clay announced at Grant Park. I would love to hear their perspective on the season.
Crazy Fan Stories AKA 8,000 Georgia Dome Seats That Don't Face the Court
On March 27, 1998, the Bulls went to Atlanta to face the Hawks, and set an NBA attendance record with 62,046 fans.
How badly did Hawks want to see the Bulls in the team's final trip to Atlanta? Eight-thousand of them couldn't see them at all.
In an ingenious logistical gamble, whoever was running stadium operations at the Georgia Dome somehow inserted 8,000 seats that did not face the court, selling tickets as "restricted view" seats at $5 apiece.
"At least we can see the goals on the baskets," one 31-year-old Hawks fan told the Atlanta Constitution. "And we cheer even though nobody can hear us.'"
There must have been tons of these stories — passionate fans doing whatever it takes to get one final glimpse of the greatest show on Earth. I hope they're in the doc.
Dickey Simpkins' wild ride
Dickey Simpkins just wanted to play.
By the time the '97-'98 season came along, Simpkins — the team's 1st round pick in 1994 — had two championship rings and nary a playoff minute to show for it. The Bulls had left him off the playoff roster in 1995 (MJ's comeback season) and both 1996 and 1997.
With Simpkins wanting playing time and the Bulls wanting a small forward to fill in for Pippen while he recovered from surgery, the Bulls traded Simpkins to the Warriors on Sept. 27 in exchange for Scott Burrell.
"Rarely in this business does a trade work out for both teams," Krause said after the trade. "This could be one of those times."
While it was good for Burrell, it did nothing for Simpkins, who played only 19 games in Golden State at 10 minutes per game. The team waived him February 17, 1998.
Two days later, the Bulls again traded away a 1st round power forward — Jason Caffey — and again to the Golden State Warriors. And on March 2, the team re-signed Simpkins, who remained with the club the rest of the year, and finally made the playoff roster, playing 13 of the team's 21 playoff games.
The Story of David Vaughn
Speaking of that Caffey trade, it netted two picks and one player — a power forward named David Vaughn. He played in three games with the Bulls, for six total minutes, scoring four points, and then was waived March 2 to make room for Simpkins.
Yet five days after the Bulls waived him, Vaughn signed a 10-day contract with the Nets. And on March 16, he was back in Chicago as a member of the opposition, playing 22 minutes and blocking one of MJ's shots.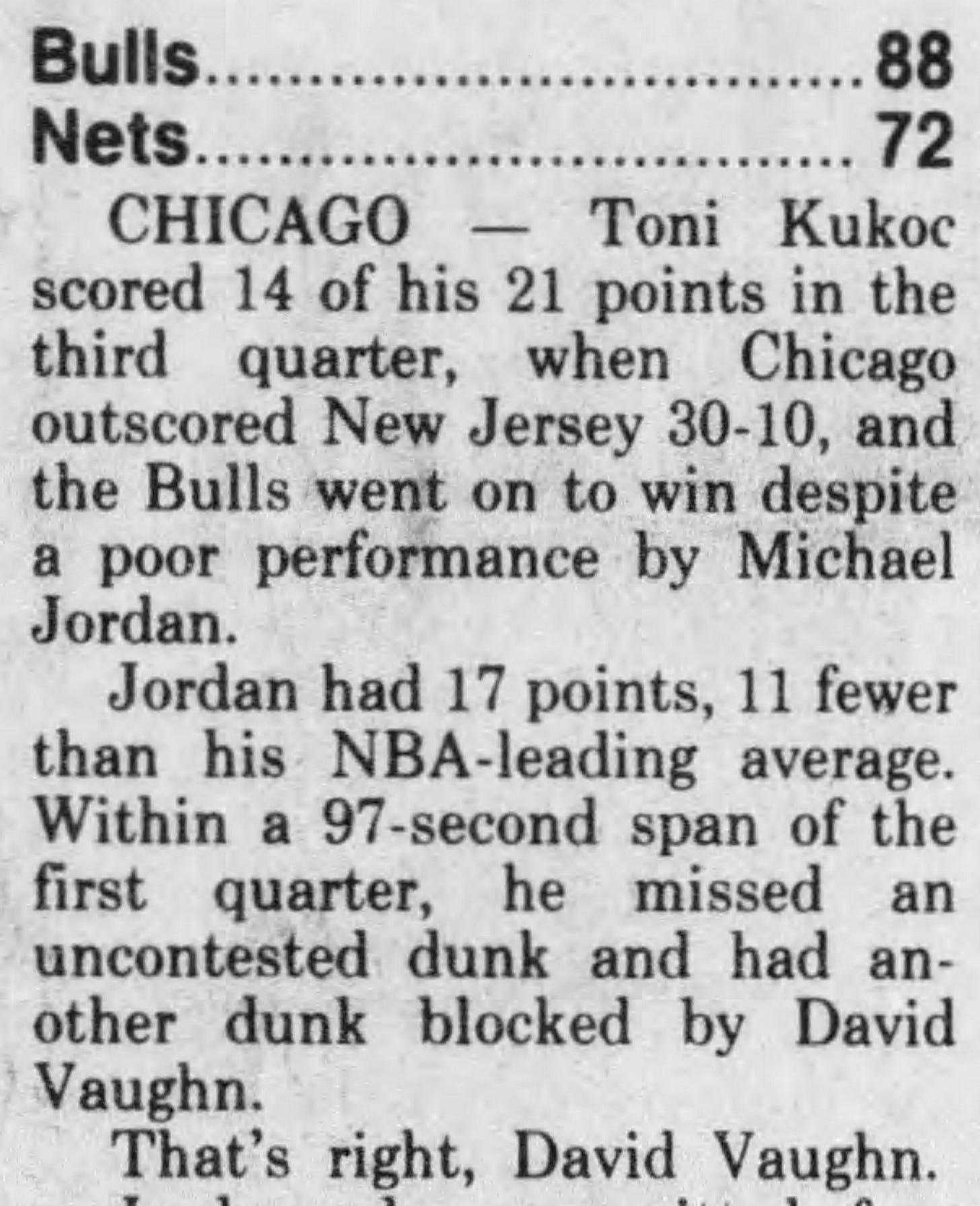 Michael Jordan's poem
The 1998 Bulls were a bizarre team. I don't know any other time in sports when the premier club in a league was in a known, lame-duck season. MJ, Scottie, Dennis, Phil and seven other players were on the last year of their contract. Those pressures, after all, are why Phil nicknamed the season "The Last Dance."
On the final day of the regular season, Phil asked the team to write something about their three-year odyssey to read to the team in practice the next day.
"Half the guys brought stuff, about half the guys forgot. I forgot," Steve Kerr explained to Roland Lazenby in his Jordan biography, Michael Jordan: The Life. "But Michael brought something and it was a poem that he wrote about the team."
Everyone who had prepared something read their piece, all together in a dark room. Phil brought a coffee can, and after each man read his words, he crumpled up the paper and put it in the can, which Phil then lit on fire.
"The lights were out and there was this glow in the room," Kerr said. "And it was like, 'All those memories that you guys just talked about, they're ours and nobody else is gonna see.' He didn't say that, but it was the metaphor. This is ours and they're gone and they'll forever live within us and nobody else will ever see 'em."
I assume they didn't film this — but man, if they did, that will be a stunning, even haunting, moment in sports documentary history. Even if they didn't film it, I hope there are interviews about it. What a moment.
---
One person who won't be in the documentary is legendary Bulls reporter Cheryl Raye-Stout, whose reporting skills combined with a rapport with MJ led to her breaking both the "MJ is playing baseball" story in 1993 and the "MJ is practicing with the Bulls again" story in 1995. (I wrote about the latter in my "I'm Back" piece last month.)
It's a shame that Cheryl is edited out of Bulls history again and again, but lucky for us all, she granted me an interview recently, which will go to paid subscribers of this newsletter on Monday.
If you're thinking about making the move from a free sign-up to a paid subscription, now's the time! I've got a lot more coming down the pipe, including a top secret interview to be revealed soon. Subscribe now for Pax a month or Pip a year.
Here's one of my favorite excerpts with Cheryl, about equipment manager John Ligmanowski:
"I love Johnny Ligs. … Dennis Rodman, his first practice with the Bulls, I go, 'I want to get a one-on-one with him.' We don't know his routine. It's the first time he's at the Berto. We don't know what's he's going to be like. So practice ends, and I'm hanging there, waiting to see if I can wait him out, and he's working out like crazy. And Johnny Ligs goes, 'What do you want?' I say, 'I'm waiting for Dennis. I want to talk to him.'

"So Johnny Ligs knows some information about me. He goes to Rodman and says, 'Hey, Cheryl over there wants to talk to you. Her sister's a tattooist.' True story. Dennis stopped what he was doing and came over and sat down next to me and gave me an interview. Because of Johnny Ligs."